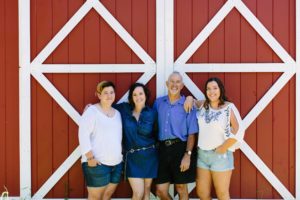 We are Rick, Laura, Taylor and Riley Lowell. We moved to Calaveras County in 2012. The idea was to be closer to family and to slow down a little. Our children were in middle school and we wanted to be able to be more present as they entered high school. We were worried about the transition – both theirs and ours – but it has been better than we could have hoped for.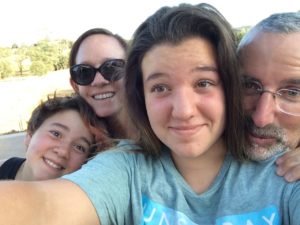 Life in rural California is so different from life in the suburbs. The pace, the vibe, the stress, the priorities are all different – not better, but different. I thought I drove the kids around a lot in the Bay Area. Up here, I can drive 300 miles in a week and not leave the county. We love it here and are happy to call Vida Buena Farm our home.
We've done a lot in the past six years to make Vida Buena Farm the special place it is…and more projects are coming. Here's a look at what we've done so far.
The Barn
Rick has always wanted enough property to need a tractor and to build a "shop". With the help of a good friend he managed to finish it in just over two years. It's better than we had hoped for.
The Herb Garden
For me, I wanted to be able to grow fresh herbs and create a beautiful, relaxing place. Building it with the help of Pamela and Britnee wasn't pretty, nor was it relaxing. But the results exceeded my expectations. The garden attracts butterflies and hummingbirds. I could watch them for hours.
The Trellis
We needed to anchor the landscape with something substantial. Having lived in the South of Spain for a year, we wanted to try and recreate the feeling of the mediterranean gardens we so loved. It was a lot of work, but it was worth it.