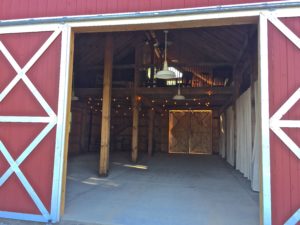 A barn can be the perfect place for a charming, rustic wedding. Couples can make a barn feel like home, and personalize it to be the perfect backdrop for their big day. The Barn at Vida Buena Farm provides an intimate venue that can be dressed up to be more elegant and sophisticated. Or you can let the landscape be your backdrop for a more casual and rustic feel. It's totally up to you.
The key to your perfect Barn wedding is to make it your own. Here are a few things we hope you consider when planning your special day.
Keep it simple. That's true with most everything in life, but especially your barn wedding. We've learned that life on a farm is about getting back to basics and keeping it real. Instead of super expensive floral arrangements on the tables, think about a simple bouquet of daisies or wildflowers that match your color palette. They add a pop of color and keep the focus on you, your friends and family.
Dress the part.  We suggest thinking twice before wearing those perfect stiletto heels to walk down the aisle…which might actually be a dirt path. Consider your footwear carefully and perhaps invest in a secondary pair of walking shoes to get around in. They are practical and much more comfortable. It's also a good idea to make sure your guests know that the ceremony and reception are being held in a rustic, outdoor environment. Sunglasses, sweaters, umbrellas all come in handy depending on the weather.
Use the landscape. Oak trees, green and gold meadows, hills in the background…these are picture-perfect backdrops for your once-in-a-lifetime wedding photos. If possible, we encourage your photographer/videographer to do a site visit prior to your big day. It will give them a sense of what is possible.
Our goal at Vida Buena Farm is to help you make your day exactly what you want it to be. Check out what Tom & Anika did for their barn wedding.